Synths® Braid-it FAQs and user guidance
Updated 2 months ago
What colours does your braiding hair come in?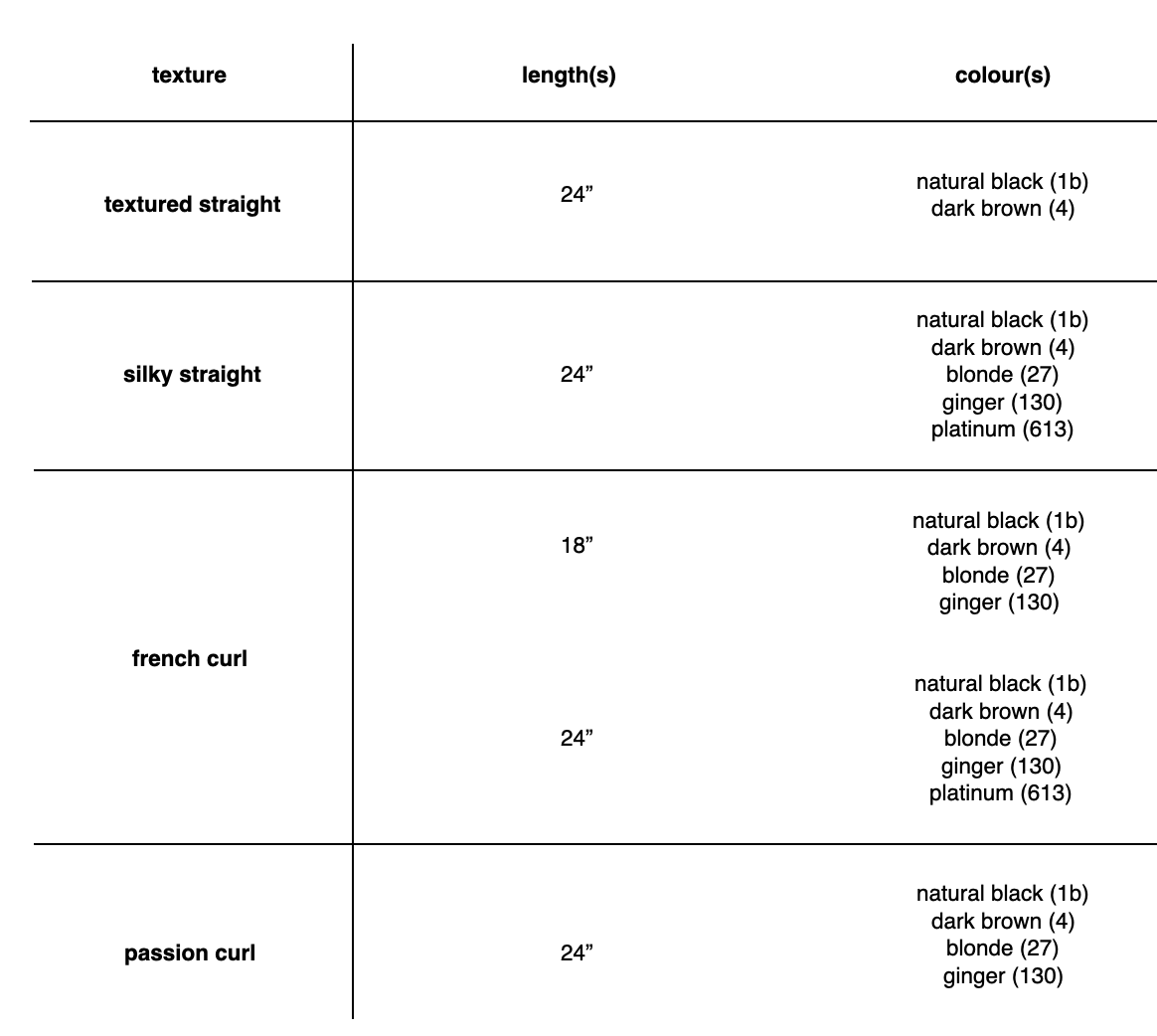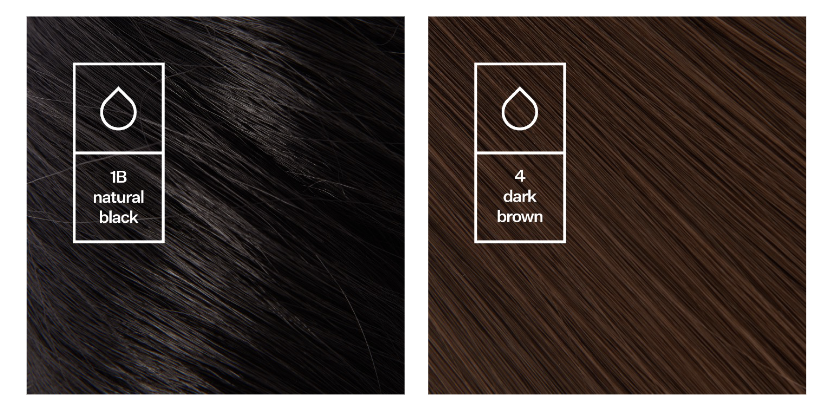 Best practice: This hair is best suited to x-small, small, and medium sized braids. Larger sized braids will likely experience increased tangling/knotting.
If you encounter some matting/friction or a knot in your braiding hair, try to brush it out with a vented brush - do not pull the hair with more force as this will damage the fibres.
If the knot cannot be brushed out, simply trim it out with a pair of scissors. Don't be afraid to brush or trim out knots/tangles - this will not damage the curls, but aggressive pulling might.
How many packs of braiding bundles do I need for a full head? 
3-4 packs - Best for a flat/low density finish, with only a slight addition of volume.
5 packs -  Best for a medium density finish, with a natural boost of volume. 
6 packs - Best for a high density finish and maximum volume.
How long are the lengths of the braiding hair bundles?
The advertised length is the folded length of the hair as used when braiding, e.g. so our 24" braiding bundles are 48" total in length, meaning 24" when folded in half, our 18" braiding bundles are 36" total in length, meaning 18" when folded in half, and so on. 
Do I need to wash the hair before using it? 
It was really important for us to create braiding hair that was not coated in lye and comes already cleaned - so there's no need for further washing or soaking in vinegar prior to your install💁🏾‍♀️ 
---
How to use
Whilst still tied up, hold the bundle at the fold and brush carefully using a vented hair brush. Begin from the ends and work gradually upwards.
Cut off the elastic at the fold and gently separate the bundle into 4 equal smaller portions.
Pull the sections apart slowly, and if you encounter some friction towards to ends do not pull harder, use the vented brush to detangle the ends and finish separating the section gently.
Take ONE of the smaller sections and separate them into the smaller individual pieces you intend to use for each braid, using the same technique as above. 
Before installing each braid, apply a small amount of 'Save me Serum' to the length of the hair for slip, and frizz prevention.
Braid as normal, gently finger detangling the ends as you braid to avoid tangling and knots. 
Braid ~3/4 of the way down and tie a knot where the braid stops
Apply a small additional amount of serum or oil to your fingertips before twizzling the curly end around your finger to align the curls where necessary.
Do I have to soak the hair in hot water after installing?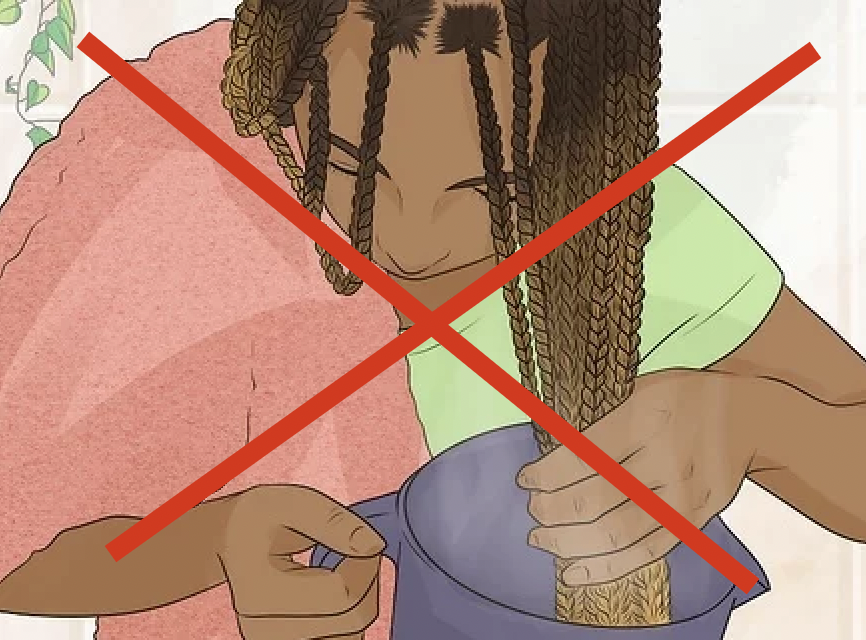 Avoid soaking the hair in hot water after braiding it as this could affect the quality of the collagen protein fibres. Instead, after braiding add a small knot at the end of the plait/twist for additional security before leaving the ends loose. You can also add a little Save Me Serum to the hair to seal and finish. 
Can the hair be straightened/curled?
Absolutely! For best results our synthetic extensions are heat resistant up to 150°C/300°F. You can do this by taking the hair in small sections, and either straightening or curling the loose ends of the braids that have been left un-braided. 
‼️To prevent unnecessary heat damage with any heat styling though, we would always recommend applying a heat protectant spray prior. This will ensure to keep your extensions in better condition for longer!
WE DO NOT RECOMMEND: using heat higher than 150 degrees, or appyling heat once you've applied styling products like hairspray etc, as this could potentially damage your synthetic hair.
How do I maintain the braids after installing/at night? 
The following steps will enable you to preserve the quality of your braiding hair once installed,
Gather the hair in a low pony using a scrunchie.
Bring the pony to the front and apply a small amount of leave-in conditioner and/or serum to the length of the hair.
Whilst applying the product, twist the pony in the natural direction of the curls, and gently separate any pieces that may have tangled (if necessary).
Wrap the pony around in a loose/large bantu knot and tuck the end into the scrunchie or secure with a bobby pin.
Cover your head with a satin/silk scarf or bonnet before sleeping. If you don't have a scarf or bonnet to hand, a satin/silk pillowcase will do.
Can I swim in my extensions?
Absolutely! Just gather the hair in a low pony using a scrunchie, (if wearing our French curl you'll want to twist the pony in the natural direction of the curls) wrap around in a loose/large bantu knot and then tuck the end into the scrunchie or secure with a claw clip before getting in the water.
After swimming, you may blow dry the roots using cool/warm setting on the blow dryer. Apply a small amount of leave-in conditioner and/or serum to the ends of the hair, and let them air dry - do not blow dry.
Can I dye my braiding hair extensions?
To avoid any unnecessary damage, we do not recommend using chemical dyes on your synthetic extensions. Though some swear by the use of spray dyes/temporary dyes on their synthetics, please be aware that this is entirely at your own risk. The safest option in our opinion would be to purchase your synthetics in the colours you would prefer - and if there are any other colours you'd like to see us come out with next then please do let us know!
I react to normal braiding hair, will I react to this? 
Our braiding hair is hypoallergenic which means the risk of an adverse reaction is significantly lower compared to traditional braiding hair.
If you have a known sensitisation to bovine collagen and/or acrylates however, we would not recommend using this product - human hair extensionsare the safest choice in such instances.
If you do have any further queries, our Customer Care team are on hand to help - get in touch by emailing [email protected]💖
What exactly is Collagen Protein fibre and why choose it over vegan plastic options?
We knew we didn't want to rely on a nylon/polyester-based material for our synthetics range and one of the things that makes Collagen Protein the highest quality synthetic material available is in part down to the natural collagen itself, which is much safer that any nylon/polyester synthetic alternatives alternatives on the market. The high quality collagen protein hair fibres in our synthetics range blend seamlessly with your own hair to give you instant, natural-looking volume and length.
Was this article helpful?